Branding a new corporate entity
When Patina Restaurant Group (PRG) split from Restaurant Associates, its branding was a dissonant mashup of East Coast and West Coast styles and sensibilities. Food Dine Wine Marketing masterminded a complete corporate rebranding whose objective was to align both "factions" seamlessly with a refreshed, unified brand voice and aesthetic.
The logo – see below – was old-fashioned, corporate, and unequivocally generic. Far from communicating "food," "deliciousness," and "hospitality," it could just as easily have been the uninspired emblem of a widget or siding company.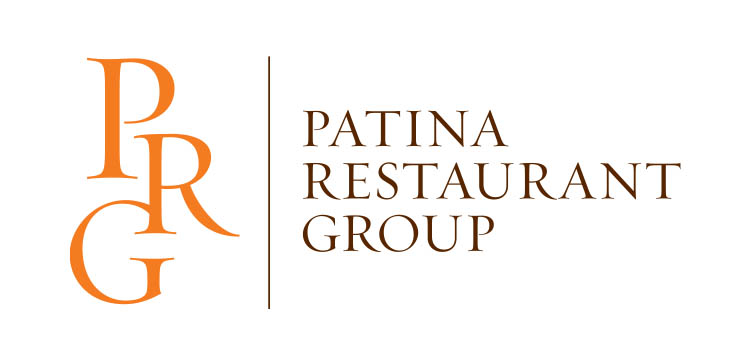 FDW, alongside a top branding agency, conducted exhaustive exploratory research from which a new brand identity was born. This arguably unified PRG's 60+ distinct concepts (encompassing upscale restaurants, bars, QSR, and catering services in prominent cultural centers nationwide) and emphasized a refreshed, inspirational "food-forward" aesthetic:
• "Food Is Art"
• Modern, 21 st C. appeal
• Chef-driven
• Clean, uncluttered
• Upscale
The logo mark was inspired by the image of Joachim Splichal, the company's celebrity chef and co-owner, drawing with his index finger the letters P, R, and G in carrot, eggplant, and spring pea purées, respectively – thereby underscoring PRG's new artisanal, chef-driven focus. The resulting brand architecture was applied across all consumer-facing platforms such as the website, all marketing materials (traditional and digital), business cards, stationery, gift cards, e-blast template, packaging, chef coats, delivery trucks, company brochure, and digital/traditional advertising.
Testament to the simple beauty, timelessness, and proprietary nature of PRG's logo mark is that it is still in use today.